This game requires a larger screen.
Magic Pen is a delightful problem solving journey with an artistic flair.
Draw ramps, planks, wheels, and hinges to help move the red circle to the flag!
Magic Pen - Learning Connections
Essential Skills
Problem Solving - 26 visual puzzles
Creative Thinking - draw your own solutions
Cause and Effect - observe how your drawings behave
Common Core Connection
MP1 - Make sense of problems and persevere in solving them.
MP7 - Look for and make use of structure.
More Math Games to Play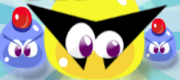 Copyright © 2018 Math Playground LLC • All Rights Reserved