This game requires a larger screen.
Place identical Pickies in the same row or column.
When a row or column is completed, the Pickies vanish so new Pickies can arrive!
Pickies 2 - Learning Connections
Essential Skills
Problem Solving - 30 puzzles
Logical Thinking - apply what you've learned to other challenges
Planning Strategies - carefully determine your next move
Common Core Connection
MP1 - Make sense of problems and persevere in solving them.
MP7 - Look for and make use of structure.
More Math Games to Play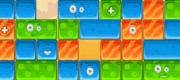 Copyright © 2018 Math Playground LLC • All Rights Reserved