It's raining sugar!
Can you get it into the cups waiting to be filled?
Sugar, Sugar 3 - Learning Connections
Essential Skills
Problem Solving - try, improve, try again
Creative Thinking - there's more than one way to solve these puzzles
Spatial Reasoning - sugar sometimes falls UP
Common Core Connection
MP1 - Make sense of problems and persevere in solving them.
MP7 - Look for and make use of structure.
More Math Games to Play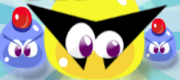 Copyright © 2018 Math Playground LLC • All Rights Reserved