Space Is Key
The goal is to get through each level of this very challenging obstacle course.
Use your spacebar key to make the block jump over any obstacles.
Can you make it all the way to the end?
Space Is Key - Learning Connections
Essential Skills
Problem Solving
Logical Thinking
Spatial Reasoning
Common Core Connection
MP1 - Make sense of problems and persevere in solving them.
MP7 - Look for and make use of structure.
More Games to Play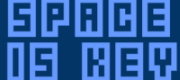 Copyright © 2017 Math Playground LLC • All Rights Reserved