Grade 1

Grade 2

Grade 3

Grade 4

Grade 5

Grade 6

This game requires a larger screen.
Continue your problem solving journey with 32 all new levels to explore.
Draw ramps, planks, wheels, and hinges to help move the red circle to the flag!
Magic Pen 2 - Learning Connections
Essential Skills
Problem Solving - 32 visual puzzles
Creative Thinking - draw your own solutions
Cause and Effect - observe how your drawings behave
Common Core Connection
MP1 - Make sense of problems and persevere in solving them.
MP7 - Look for and make use of structure.
More Math Games to Play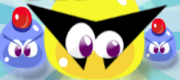 Copyright © 2017 Math Playground LLC • All Rights Reserved