< Prepare a path for Bear to follow. Remove or change the location of blocks.
Create new platforms and turn on the springy blocks. Then watch Bear go!
Bear vs Bee - Learning Connections
Essential Skills
Problem Solving - 32 puzzles
Logical Thinking - move bear in a specific sequence
Cause and Effect - discover how to use various tools
Common Core Connection
MP1 - Make sense of problems and persevere in solving them.
MP7 - Look for and make use of structure.
More Math Games to Play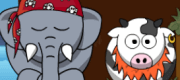 Copyright © 2018 Math Playground LLC • All Rights Reserved