This game requires a larger screen.
Plan ahead, relocate monsters and test your strategy in this spatial reasoning puzzle.
Remove the monsters from the playing field until only one monster remains!
Puzzle Monsters - Learning Connections
Essential Skills
Problem Solving - think logically through 20 challenging levels
Cause and Effect - predict the outcome of each move
Spatial Reasoning - visualize your strategy before testing it
Common Core Connection
MP1 - Make sense of problems and persevere in solving them.
MP7 - Look for and make use of structure.
More Math Games to Play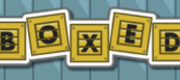 Copyright © 2017 Math Playground LLC • All Rights Reserved