Control the laser beam by rearranging the blocks. Blocks have different abilities.
Some blocks reflect the light while others stop the light beam from advancing.
Experiment with the blocks to learn how they function.
Reflector - Learning Connections
Essential Skills
Problem Solving - 40 challenging levels
Trial and Error - try again and again
Spatial Reasoning - visualize pathways
Common Core Connection
MP1 - Make sense of problems and persevere in solving them.
MP7 - Look for and make use of structure.
More Math Games to Play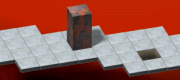 Copyright © 2018 Math Playground LLC • All Rights Reserved