The elephant is still sleeping and nothing seems to wake him up.
Fortunately, the other animals have special abilities that may help!
Snoring Pirates - Learning Connections
Essential Skills
Problem Solving - 24 physics puzzles
Sequential Reasoning - plan actions in the correct order
Cause and Effect - discover the special abilities of the animals
Common Core Connection
MP1 - Make sense of problems and persevere in solving them.
MP7 - Look for and make use of structure.
More Math Games to Play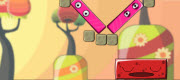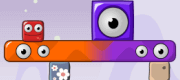 Copyright © 2018 Math Playground LLC • All Rights Reserved